More homeowners climbing the ladder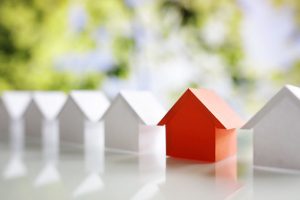 There's some better news for those who are looking to
make their move up the housing ladder. Second-steppers, as they are often referred to, are mostly couples and young families seeking to move on from their first home to somewhere bigger.
Figures from Lloyds Bank1 show that more than 370,000 homeowners were able to step up the housing ladder and purchase their next property with a mortgage in 2017, the highest recorded figure for the last ten years. The only region to record a fall in the number moving up was Greater London.
Homeowners ready to take their second or subsequent move have found it easier lately, thanks to a combination of factors, including low mortgage rates, high employment and the equity they have accumulated in their first home.
Strong house price growth has led to many second-steppers being in the happy position of having substantial equity in their homes.
This often means that they can afford to put down a bigger deposit on their next property, helping to get a better mortgage deal.
A LITTLE HELP FROM THE BANK OF MUM AND DAD
According to Lloyds, the difference in price between a typical first-time buyer's
home and their next purchase is around £126,000. Their research found that on average they have £105,000 in equity from the sale of their first home, leaving a funding gap of around £21,000. It's at this point that parents and grandparents often step in and help.
MAKING THE NEXT MOVE
In order to get more living space, second-steppers are adopting a number of buying strategies. Many are moving out of larger towns and cities to areas that are potentially less fashionable, but are less expensive. Some are actively seeking homes that they can extend to get the living space they need.
Multigenerational homes are becoming more common too, with families pooling their resources to buy a home that can accommodate them all. This has the benefit of allowing older homeowners to release equity that they can then share with their children, and younger families get the space they need to grow. Homes with annexes or with potential to be split in two can work well, as both generations get to retain their privacy and independence.
As a mortgage is secured against your home or property, it could be repossessed if you do not keep up mortgage repayments.
1              Lloyds Bank, Jan 2018